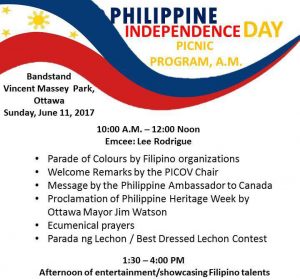 Congratulations to the hosts and crew on 25 years of the Tinig Pinoy radio show!  We are doing a special live broadcast on Sunday June 11, from 1 PM – 4 PM, from the Philippine Independence Picnic at Vincent Massey Park (located at Riverside Drive and Heron Road)
In the morning there will be a parade of colours and speeches from The Philippine Ambassador to Canada, Mayor Jim Watson and others.
In the afternoon we can expect some great entertainment and a talent showcase featuring various Filipino artists and musicians, including a performance by Eddie Quotez who opened for Kanye West at Bluesfest!
listen back here: http://cod.ckcufm.com/programs/32/32751.html