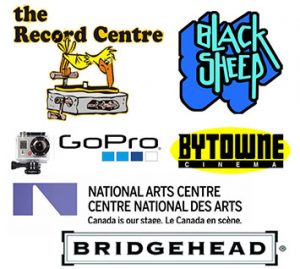 2017 Paid Pledge Draw
Thank you so much to the donors of this year's fabulous prizes!
The Record Centre, 1097 Wellington St. W. – Two turntable packages from The Record Centre
The National Arts Centre, 1 Elgin St. – Four tickets to performances at The National Arts Centre
The Black Sheep Inn, 753 Riverside, Wakefield QC – Thirty-six tickets to concerts at The Black Sheep Inn
The ByTowne Cinema, 325 Rideau St. – Three gift packs to The Bytowne Cinema
Bridgehead Coffee, 130 Anderson St. (at Preston) – Coffee package from Bridgehead Coffee
CKCU-FM 93.1 – Go Pro Camera
Here are the 2017 prize winners:
Alan T., Alex M., Andrea Y., Antonio M., Arthur K., Brian W., Caroline C., Charles S., Daniel R., Desma G., Eileen R., Girish S., James B., John C., Louis C., Murli R., Naresh S., Neil B., Peter E., Sarah P., Sean B., Shaz T., Sheri V., Sherif L., Shirine E., Sligo N. & Susan J.
Thank you to everyone who donated to CKCU-FM's Annual Funding Drive! Winners will receive a letter in the mail.