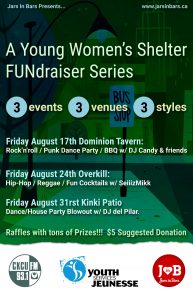 Jars In Bars and CKCU 93.1 FM presents: A Summer FUNdraiser Series
DJ's showcasing a variety of music on the last 3 Fridays in August with 100% of the proceeds going to the Youth Services Bureau's Young Women's Emergency Shelter!
3 events – 3 venues – 3 styles!!
⦁    The first Friday night (August 17th) will be a Rock 'n' Roll Punk BBQ  at the Dominion Tavern with DJ Candy (host of Candyshop Fridays 4-5PM) & Friends!
⦁    The second Friday night (August 24th) will be Hip-Hop night at Overkill with DJ SeiiizMikk!
⦁    The third Friday night (August 31st) will be a House music dance party blowout on the patio at Kinki with DJ del Pilar!
There will be raffles with tons of prizes! Literally 100% of the profits raised will go to the YSB's Young Women's Emergency Shelter for all three events.
For more information go to jarsinbars.ca
https://www.facebook.com/ events/2120820391463843/