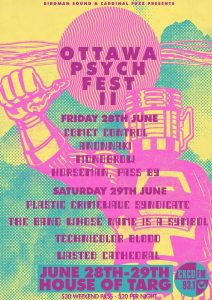 Ottawa Psychfest II returns to House of Targ, 1077 Bank Street, for 2 nights of original, brain frying, monster tuneage!
Friday June 28th, Tee Pee Recording artists Comet Control from Toronto, headline the first night with BC's doom, drone,psych duo Anunnaki, Ottawa's best 70's inspired hardrock groove merchants Monobrow and the dynamic drum cello onslaught and jaw dropping sounds of Ottawa's Horseman, Pass By.
Saturday June 29th, legendary Chicago Psych giants Plastic Crimewave Syndicate will bake all brain cells with the aid of Ottawa's The Band Whose Name Is A Symbol, Montreals' hard psych rockers Technicolour Blood and Saskatoon, Saskatchewan's master of electronic space jazz Wasted Cathedral.
Weekend passes are $30, each night is $20. And tickets are available at Birdman Sound, 593 Bank Street in Ottawa.  Ottawa Psychefest II  is presented by Birdman Sound, Cardinal Fuzz Records and CKCU-FM 93.1.
This festival is a must see! Space is the only place!
more info: https://www.facebook.com/events/518548048666402/