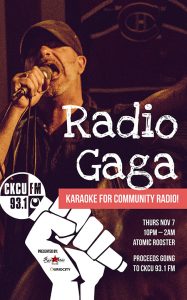 Erik Stolpmann from Curiocity has another fundraiser on the docket!
Join us at the Atomic Rooster (303 Bank St.) on Thursday, November 7th (10 PM – 2 AM) for a special CKCU-FM edition of "Rock Star Karaoke", hosted by the one and only Jamie Douglas of The Powergoats!
Come and sing your favourite radio tunes as we celebrate the CKCU airwaves and raise money for the annual Funding Drive.
More information to come – hope to CK-see you getting your karaoke on at the Atomic Rooster!
Wonder which one(s) Erik is going to sing?! Turn up and find out.
https://www.facebook.com/events/733766247047422/