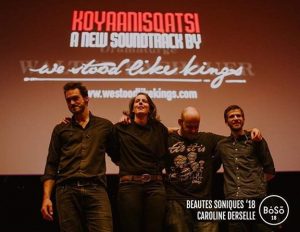 Interview with Mathieu Waterkeyn, drummer for We Stood Like Kings – March 10th  as heard live on Hexon Bogon, with host Adriana Ciccone on CKCU 93.1 FM
We Stood Like Kings are a 4-piece instrumental band from Brussels. They have been together since 2011 and have released 3 albums via Dunk! Records & Kapitän Platte. They describe themselves as playing post-rock on silent movies. Even though their albums were written as soundtracks to silent films, they stand on their own and are thought provoking and moving. They are playing several shows this year across Europe, with one of those shows having occurred last night in Arlon, Belgium with 3-piece giants, Féroces who will actually be in town on April 17th.
Today I have the pleasure to interview one of the members of We Stood Like Kings, the drummer for the band, Mathieu. He is with me on the phone now. He took time out of his busy schedule to do an interview with me and I'm totally grateful.
Adriana: Hi Mathieu, thank-you for being on the show.
Mathieu: Hello Adriana it's my pleasure, Thank You for having me. Not too early for you?
Adriana: Yes, It's pretty early! Is it mid-morning where you are right now?
Mathieu: It's 10 o'clock in the morning. Continue reading →