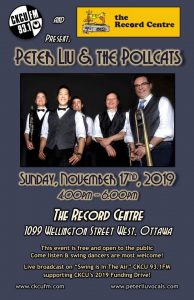 Our Funding Drive finale this year (which happens every year during Swing Is In The Air) will be a performance on the Radio Program LIVE from The Record Centre by Peter Liu & the Pollcats!
Incidentally, Peter is also one of the hosts on Swing Is In The Air, so I guess you could say he's doing double-duty that afternoon ;)
"Well known in Ottawa for his warm velvety voice, creative phrasing, and engaging presence, Peter Liu is passionate about singing jazz and connecting emotionally with audiences. Whether leading jazz combos, or as guest vocalist, he performs regularly at public and private events across the region, enhancing the mood, energy and atmosphere where he plays." https://peterliuandthepollcats.bandcamp.com/
Come celebrate, DANCE and help us us push to the finish line so to speak... Sunday, November 17,  from 4 PM – 6 PM @ The Record Centre (1099 Wellington St. W) There is no cover, but I bet the hat will get passed around!
https://www.facebook.com/events/2169928513306958/