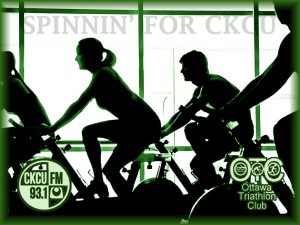 Do you love local radio? Do you also love to keep in shape? Then head down to SPINNIN' FOR CKCU at the Ottawa Triathlon Club!
This indoor cycling workout will be led by a coach who will take you on a challenging adventure set to the soundtrack of the oldest campus station in all of Canada, CKCUFM!  Your $20 admission will go directly to CKCU's Funding Drive!
Lace up those shoes and hit the pedals at SPINNIN' FOR CKCU, Friday November 29th from 6:00 to 9:00 PM at the Ottawa Triathlon Club!
For more information and to register, contact Shelley Ann Morris, co-host of Welcome To My World at shelleym1776@gmail.com
Join us to change the conversation about disability and cycle for the Mighty 93.1!