Like a record scratching to a stop, in-person classes at Carleton University came to an abrupt halt in March 2020. Six months later Rachel Stanley, Jadi Genita, and Drew Torresan, all enrolled in a theatre production seminar found themselves facing a challenge.
The ma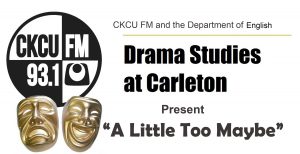 in assignment was to create and perform a play, but due to pandemic restrictions, they would not be able to meet to write and rehearse, let alone stage a show in front of a live audience.
Thankfully, Prof. Janne Cleveland, who co-ordinates the University's Drama Studies program, and instructor Rebecca Benson had a plan.
The result — A Little Too Maybe, Carleton's first-ever radio play, about a couple falling out of love —will air on the campus-based community station CKCU, along with a three-part documentary about how the project came together.
A lot of the play is built around failing communications. Instead of being focused on COVID itself, the play is on based the feelings of the pandemic: loss, uncertainty, worries about not being heard.
The students did research on different types of virtual theatre and experimented with sound, character, emotion, setting and plot, falling in love with the forced reliance on audio. With web cams turned off, a toilet paper tube tapping on a desk could sound like a woodpecker; falling marbles could sound like the patter of rain.
Ultimately, the students came up with a script and recorded the play from their homes over Zoom. Pulled together and produced by CKCU's Production Manager Dylan Hunter, it will air in three 15-minute segments along with the three half-hour parts of the doc on (Tuesdays) Nov. 2nd, 9th and 16th starting at 8:05 AM each morning, exclusively on CKCU 93.1 FM or stream ckcufm.com