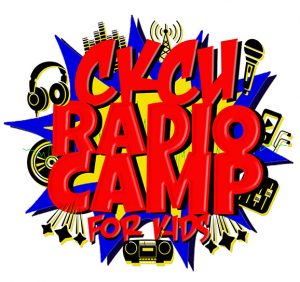 Now accepting Registration for March Break!

Where?:
Carleton University – Room 517 University Centre
Price:
$325 (tax included)
Dates:

MARCH 16 – 20th (5 days)

Spaces Left:
3
Drop Off:
8-9am


Pick Up:


4-5pm
Hey Kids! Want to take over the airwaves?
Join us at CKCU 93.1 FM for a truly unique camp experience this summer. CKCU's Radio Camp is the only camp in Ottawa that teaches kids between the ages of 10 and 14 how to be a real live radio star. CKCU has presented this very unique week long march break & summer camp to kids in the Ottawa area since 2001.
BE A DJ AND HOST OF THE CAMPERS 2-HOUR LIVE RADIO SHOW
The camp ends with our live 2-hour broadcast of the radio camp kids showcasing all of their new talents as radio broadcasters. This show will feature live interviews and segments, campers' music selections, pre-recorded advertisements and plays, news, weather and much, much more! All of it can be heard over the airwaves of 93.1FM, on TV at channel 944 on Rogers Cable and around the world at ckcufm.com!
CREATE A RADIO ADVERTISEMENT
Radio campers have the chance to write and record their very own radio advertisement to be heard during the week. The kids first start by learning how to put together an advertisement script with sound effects, music and voice-overs. Once the scripts are complete each camper will record and edit their very own radio ad, learning all of tricks of audio recording and digital audio editing along the way.
BE PART OF THE STAR CAST IN A RADIO PLAY
Have a love for acting? Each radio camper will be a voice actor in an original radio play. The radio plays are recorded to professional standards and polished up with music and sound effects made by the radio campers themselves!
AN EXPERIENCE THAT WILL LAST FOR YEARS TO COME!
At the end of the camp you will access to the recording of the radio program in our archive for 4 years, and can save any aspect of your work at camp and the show itself.
AND EVEN MORE!
Have you ever wondered what goes on behind the scenes during live broadcast? How to create sound effects and special voice effects? Or how to edit audio?  At Radio Camp you will learn all of the secrets of a live broadcast, use professional broadcast equipment and record and edit your very own advertisements and radio play. But that's not all! In addition to learning proper voice presentation and interview techniques, Radio Camp kids will be live on the air for 2 hours on the final day of camp!
This is a great camp for anyone interested in music and the creative arts. This unique camp will be running 6 different weeks in July & August. Drop off is between 8:30 and 9:00am, Pick up is between 4pm and 5pm. This camp has a limited number of spots available so register soon!
TO REGISTER
To register call 613-520-3533 or e-mail radiocamp@ckcufm.com. Click below to download the registration form which can be completed and sent by e-mail! Payment can be made by Cash, Cheque or Credit Card on the first day of camp.
CKCU Radio Camp Registration Form – PDF
CKCU Radio Camp Registration Form – DocX