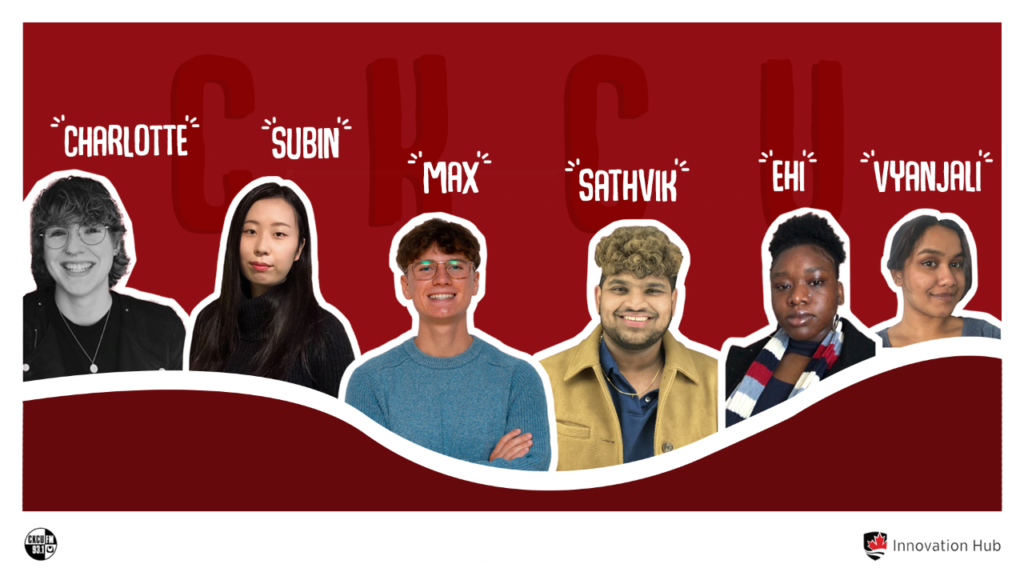 Over the past 13 weeks, we've caught up with our 6 talented Carleton University students to find out about their goals, projects, and the experience working with CKCU through the Launch: Ideas program.
Internships and co-op placements like ours are incredibly valuable for networking, gaining real-world experience, and helping students build the skills necessary to land their future dream jobs. The talented, creative minds with us have brought innovative solutions to real-world problems as we design, develop, and execute a dynamic on-demand platform for radio programming and content.
Harry Sharma, Director at the Innovation Hub for Carleton University, is confident the students have gained valuable skills and experiences throughout the program. "The students have now had the experience of working for a real employer and working within the boundaries of constraints. They have had to deliver real projects that have impact, are of a high quality, and within a deadline. The students have finished this experience with no official grade at the end, but real-time feedback from their employer, CKCU FM. It will be a great experience from a future employer's perspective that students now have this experience under their belts."
Kwende Kefentse, Executive Director at CKCU FM, adds to that idea of the student experience. "The students had a range of experiences that will shape their futures, including learning more about the charitable sector, broadcast media, client relationships, and project development. They also had some really great experience when it comes to stakeholder and professional interactions."
However, the students aren't the only ones on the learning and absorbing side of things. Both the Innovation Hub and program partner CKCU have gained great insight into designing, developing, and offering student experiential learning opportunities.
"We've learned how to scope projects for future partnerships. We have developed mutually agreed upon final deliverables and midterm reports for interacting with students. We have implemented tools and processes that allow us to onboard new partners and students, and deliver projects that align with the clients' vision", says Harry.
From CKCU FM's perspective, this partnership was a giant step into the future. "This collaboration is a huge step forward for our organization. The research and development done by these students will help modernize community radio and is the foundation for future transformation. We look forward to continuing the great work that was started here", adds Kwende.
By having a chance to explore their fields, apply their classroom skills in a work environment, and develop their talents, students coming out of the Launch: Ideas program are more prepared than ever.
Curious to find out more about interning with an innovative team like us? Stay tuned with the Innovation Hub for future placements and follow along with us at CKCU for more experiential learning opportunities.