For several decades, CKCU 93.1 FM has been the home of Third World Players, a radio program Lloyd developed and hosted. It complimented the theater group that he helped found by the same name, which reflected similar values and goals. "Increasing awareness of the rich cultural heritage of Canadians with origins in the Third World" is how Lloyd described his show. He aimed to create a radio program that was multi-cultural, multi-lingual and highlighted Third World writers and artists. Production Assistant for Third World Players, David Leibold, recounted with fondness that "Lloyd brought in a wide array of guests from various cultures and talents, whether the topic was poetry, biography, theatre, history, and more."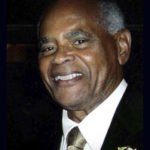 Beginning in 1980 as a short segment on CKCU FM's Reggae In The Fields program, Third World Players is one of Lloyd's longest ongoing volunteer roles. In time, the segment moved from Reggae In The Fields to its own time spot becoming a stand-alone program. It has continued to the present day with the assistance of David Leibold.
Junior Smith, host of Reggae In The Fields, is a long-time CKCU-FM cohort of Mr. Stanford's and the Caribbean community. He reflected:
"Lloyd's passion in life was to explore and present artistic content for radio and the stage. He fostered a keen interest in presenting voices and writings from the Third World. I first met Lloyd in the early 1980s when he approached me with an idea to do a literary program at CKCU. At that time, there were no openings in the broadcast schedule, so I invited him to do a weekly recorded segment on my program. Lloyd always recounts, when asked to speak about the development of his program, that "Third World Players was born in the bosom of Reggae in the Fields."
For over 40 years, Mr. Stanford brought unique and valuable programming to the airwaves of CKCU-FM. Blending his passions, interests, and experiences, he created content that was sure to enrich the minds of anyone listening. A thoughtful and eloquent speaker, Lloyd presented and explored the arts of Canada, the Caribbean and the developing world in a way not found elsewhere in the community.
Lloyd's enthusiasm for people, the humanities, and the arts carried through his life as a theme. So did his kindness and generosity. His vast experience in public service on an international level along with his passion to make a difference was nothing short of a winning combination. From championing younger generations in education, the arts, multi-culturalism, his community and beyond, Mr. Stanford's educational endeavors, support, volunteerism, compassion, and drive are admirable and exemplary. He will always be held in high regard and esteemed at CKCU-FM, Carleton University and the communities he has touched. We look forward to developing ways to advance and celebrate his legacy. Our thoughts are with his wife Anita, and his children Daniel, Marc-Andre, and Nathania.