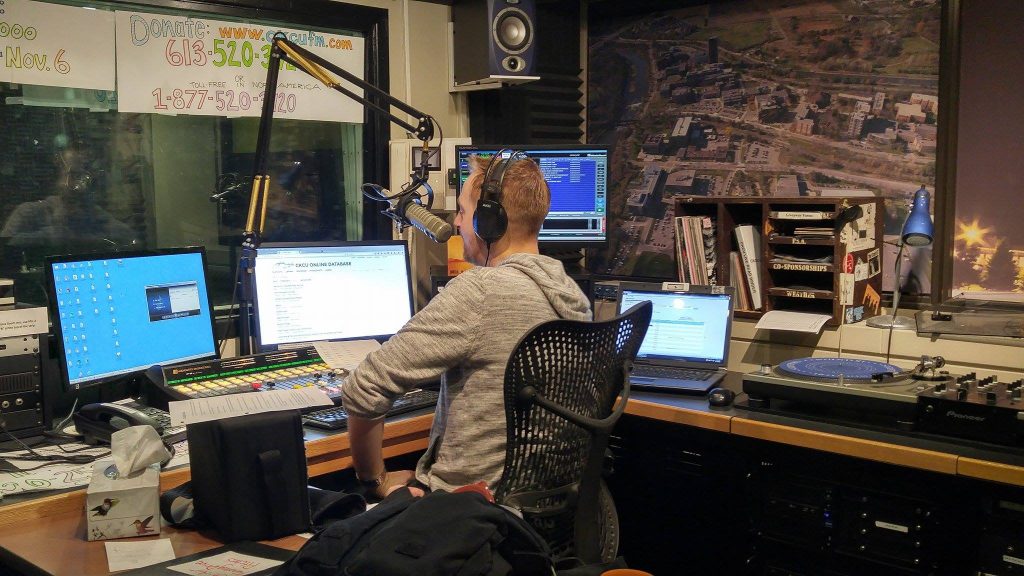 words and photo by Beverly Osazuwa

Ryan Bresee is the host of Whatever's Cool with Me, a general music show for all people and genres.
How long have you been involved with CKCU?
I started with CKCU when I was a student here. I was a student in the journalism program from 1995-99 and I started volunteering in 1996. I would come in and just volunteer in-between classes and started doing the closed circuit.
An over-nighter opened and I did a 2 in the morning to 7 in the morning shift for a few months, and then a Thursday morning spot opened. I applied for it and I started doing that in August of 1997, so this past august I just celebrated 19 years in that time slot. I'm just trying to do something special for 20 next year.
What made you want to be involved with radio/CKCU?
I'd been listening to CKCU while I was in high school and I was really drawn to a lot of the music. I like pop music and I grew up listening to old country, old rock, classical and stuff like that. I liked pop music, but I really liked a lot of the indie rock stuff, the rap, and electronic was starting to become a bigger thing at that point and I really wasn't hearing that elsewhere.
I decided that I'd wanted to focus on TV journalism while I was in journalism school, and I thought, 'Well this would be an opportunity to get into radio as well and sort of get both sides of it.' I was less interested in the print aspect so I kind of wanted to focus on TV, and this radio station allowed me to do in what little spare time I had. It was great experience just to get on air and have access to the music.
What inspired you to start Whatever's Cool with Me?
When I started volunteering and I did the closed circuit, I really liked it and I got good feedback. When I was in university I worked at a record store to pay for school. I went to school part time year-round so I could work full time year-round, just so I wouldn't have to take out loans.
One of the things I loved about working at the record store was sharing music with people. I really got a kick out of people coming up and saying "Oh what are you playing in the store? I love that" and developing relationships with people who'd come in saying "I'm looking for something in this genre," and then you'd recommend something and they like it and they come back.
Doing the radio show was a similar kind of thing where I could share music I had access to through working at the record store and getting it sent here to the radio station. I would share stuff that I liked, and there would be a relationship starting to build with listeners because they would call in. I really enjoy the idea of sharing music with people, and the having them share music with me.
What is the premise of your show?
It's a general music show. I start every show by saying I play a little bit of this, a little bit of that, and I do take requests. I play basically anything that isn't top 40. I play a lot of indie stuff, electronic, rap music, indie rock, jazz blues, classical, folk, and old country. Anything that's not top 40, which isn't to say I don't like top 40, but there are lots of outlets for that in Ottawa so I like that. I'm glad I'm able to provide something different.
Why have you stuck around CKCU for so long?
Because they haven't kicked me out (laughs).
I enjoy coming in. I look forward to doing it. It's a lot of work every week trying to plan two and half hours of music when you have a full-time job and a family, but some people collect stamps . . . I like to host a radio show.
As a CKCU radio host, what drives you?
I think what drives me is that sharing—sharing the experience, sharing music, then being exposed to stuff. Being a host here has given me exposure to so much music over the years. Some of that is directly through the station. Some of that is through things like Polaris because the only reason I'm a Polaris jury member is because I have a show here at CKCU. So, directly or indirectly, CKCU has opened music to me in so many ways.