This content has been archived.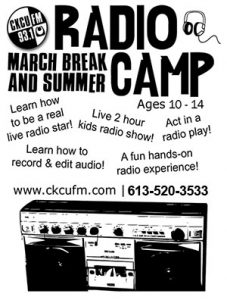 Registration still being accepted!
Dates for the Summer Camps left to go:
Aug 14th – 18th & Aug 21st – 25th
Still a few spots left in each of these two weeks in AUGUST, so please register ASAP!
Hey Kids! Want to take over the airwaves?
Join us at CKCU 93.1 FM for a truly unique camp experience this SUMMER. CKCU's Radio Camp is the only camp in Ottawa that teaches kids between the ages of 10 and 14 how to be a real live radio star. CKCU has presented this very unique week long camp to kids in the Ottawa area since 2001.
For more info and how to register please check out: http://www.ckcufm.com/radio-camp/