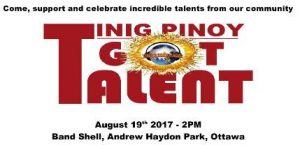 Silver Anniversary celebration begins! Tinig Pinoy is 25 years old this year. We thank YOU all for your support.
You are invited to join Tinig Pinoy Radio, CKCU 93.1 FM.
Picnic. Fun Games, Prizes, and Showcase your talents
Picnic from 8am to 5pm.
Come early and save your spot. Its FREE.
Bring your own food or simply drop by to say hello to your Tinig Pinoy hosts & friends.
Tinig Pinoy Got Talent 3 from 2pm to 5pm.
Win $1000CAD.,open for all ages. Winner takes it all.
Visit www.tinigpinoy.com for more information
Congratulations to the hosts and crew on 25 years of the Tinig Pinoy radio show!  ou can still listen back to the show show live from the park that took place in June: http://cod.ckcufm.com/programs/32/32751.html