This content has been archived.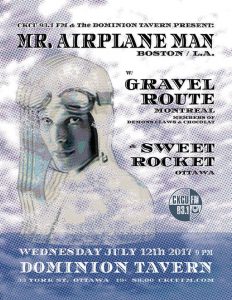 CKCU 93.1 FM and the Dominion Tavern bring you live in concert:
MR. AIRPLANE MAN (Boston/LA)
http://www.mrairplaneman.com/
https://mrairplaneman.bandcamp.com/
Mr. Airplane Man are the duo of Margaret Garrett & Tara McManus that create a delicious blend of hypnotic delta blues and deadly garage rawk 'n' roll. They make their first appearance in Ottawa since the Birdman Stage at Bluesfest 14 years ago…. after a ten year hiatus and now sporting a brand new album, Mr. Airplane Man will rawk out and soothe your soul. In the past, Mr. Airplane Man have toured extensively with the Reigning Sound, White Stripes, Detroit Cobras, Holly GoLightly, Hot Snakes, Yeah Yeah Yeahs, Blues Explosion, Dirtbombs and many more while releasing three albums and an EP on Sympathy for the Record Industry to tremendous critical acclaim. They are back with a vengeance, most recently recording with Greg Cartwright, expect a new single and LP soon!
GRAVEL ROUTE (Montréal)
https://gravelroute.bandcamp.com/
Gravel Route are a psyche-blues trio from Montréal consisting of Patrick Bourbonnais (guitar and vocals), Fred Grenier (bass) and Brian Hildebrand (drums) ….members of Demons Claws and Chocolat among others, collectively recording albums and 45s on labels such as In the Red, Sub Pop, Telephone Explosion, Rob's House, Hook or Crook, P-Trash, Norton…. so you know they are gonna rule!
SWEET ROCKET (Ottawa)
https://thesweetrocket.bandcamp.com/
Crunchy and catchy, Rosby, Thrill & Bash bring you subterranean pop melodies for you to get lost in, 3 to 5 minutes at a time.
Wednesday, July 12th at The Dominion Tavern (​33 York Street in the Byward Market)
9PM / $8.00 at the door / 19+