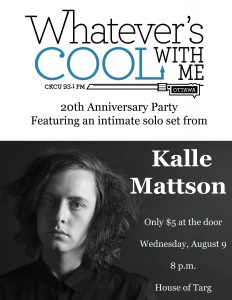 We are celebrating 20 years of Whatever's Cool With Me hosted by Ryan Bresee at CKCU 93.1 FM! Over that time Ryan has presented a tremendous selection of local and non-local, new releases and great older songs in an eclectic mix that challenges the listener in one moment and reminds them of great songs from the past in the next moment. Many Ottawa musicians have had their first air play ever on his program and their first interviews. Some of the evidence can be found here: http://cod.ckcufm.com/programs/101/info.html
Ryan's easy going, thoughtful and fun presentation attracts a strong audience every Thursday morning (9:30 – noon). He has become a recognized member on the Ottawa music community due to the quality of his program. He has hosted stages at music festivals and been a juror on music prizes like the Polaris Music Prize.
To mark the occasion, we're going to have a little party at The House of Targ. Kalle Mattson will be performing an intimate solo set and admission is only $5 at the door. Remember when shows were only $5? Mostly 20 years ago I'd reckon!
There will be great door prizes and a chance to socialize with fellow music lovers while you play pinball and eat perogies. Come help us celebrate 20 years of WCWM on the radio!
Wednesday, August 9 at 9 PM, Kalle will play at 10 PM
House of TARG 1077 Bank Street, Ottawa
https://www.facebook.com/events/1843024256025457