Canadian folk enthusiast A.L. (Chopper) McKinnon was the founder of Canadian Spaces, Canada's longest-running folk music show, heard on Saturday mornings on CKCU FM.  On March 10 CKCU dedicated a special edition of Canadian Spaces to Chopper, who passed away on March 13, 2013 after hosting the program for 33 years.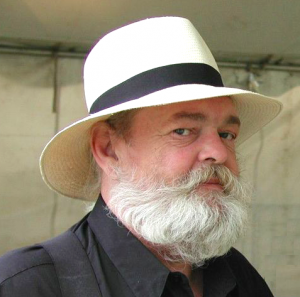 This special edition of Canadian Spaces, was hosted by Chris White and Joyce MacPhee, to celebrate Chopper's achievements and legacy. The program  featured a special playlist highlighting some of Chopper's favourite Canadian folk music, along with a short documentary, phone interviews with those who knew Chopper well, and special guests in the studio.
Chopper was a vital element of the local folk scene and was recognized across Canada for his support and encouragement of Canadian singer-songwriters. Chopper hosted Canadian Spaces for an astounding 33 years. He is credited as the inspiration for the Ottawa Folk Festival (now called CityFolk), which is celebrating its 25th birthday this year.
Nearly every major folk musician has appeared on Canadian Spaces and Chopper introduced countless artists from across the country to Ottawa audiences through his work with the Ottawa Folk Festival and the Acoustic Waves concert series.
Chopper was greatly admired by members of the folk music community, and received the Helen Verger Award recipient honouring his outstanding contributions to the music he loved so much. Chopper also received citations from the Prime Minister of Canada, the Governor General of Canada and the Province of Ontario. In both 2000 and 2012, the City of Ottawa proclaimed Chopper McKinnon Day in his honour.
To listen to the program: http://cod.ckcufm.com/programs/129/36552.html