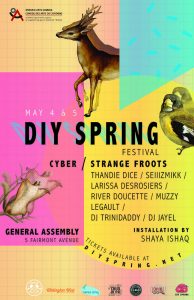 DIY Spring Festival is a futuristic music and arts festival that nurtures the grassroots arts scene and empowers young creatives.
The original DIY Spring took place in 2016 as a collaborative project between local promoters Babely Shades and Debaser, with the support of the Bourse Tontine. It featured acts such as legendary shoegaze band The Veldt, California pop-tronic witch Ah-Mer-Ah-Su and renowned Anishnaabe violinist Melody McKiver.
Now, the project is being spearheaded by Elsa Mirzaei, local pop musician and community educator, with the help of Mikayla Gordon aka Seiiizmikk, who is best-known for being one of Ottawa's up-and-coming hip hop artists, producers and production-teachers.
This year, DIY Spring Festival will be taking place out of General Assembly at 5A Fairmont Avenue.
It features CYBER, Shaya Ishaq, Strange Froots, Muzzy Legault, Thandie Dice, River Doucette, Larissa Desrosiers (also A CKCU show host!), Seiiizmikk & DJ Trinidaddy.
We acknowledge that DIY Spring Festival takes place on unceded and unsurrendered Algonquin territory known as Ottawa.
For more info, tickets and links to the individual events: https://www.facebook.com/diyspringfest/ or https://www.diyspring.net/