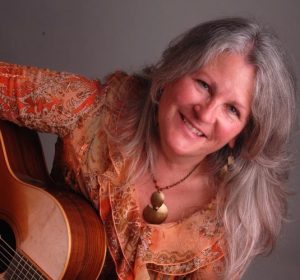 Ottawa musician, event organizer and radio host Pat Moore has been selected as the 2018 recipient of the Spirit of Tony Turner Award.  The award is presented annually to an individual who devotes their time and talents to creating opportunities for local musicians to develop their skills, connect with audiences and benefit the wider community. Tony Turner will present the Spirit of Tony Turner Award to Pat Moore on Saturday afternoon, April 21 at 2:00 pm at the Black Irish Pub.
Born and raised in Ottawa, Pat Moore grew up in a house filled with music.  She remembers singing harmonies with her sisters while doing the dinner dishes!  A versatile singer and musician, Pat performs and records with the bluegrass band Maple Hill, as well as with The Monroe Sisters, The Vinyl Frontier, and Moore & Doucet.   She has released two albums of original songs:  "The Time's Never Been Better" and "Take it to Heart".
One of Pat's many contributions is producing the annual Christmas Goose benefit concert, now in its 16th year.  The multi-performer concert held at the National Arts Centre's Fourth Stage has raised significant funds for the Ottawa Food Bank.  The concert has also generated three albums that feature winter-themed songs written and performed by local musicians:  "Christmas Goose", "Christmas Platter" and "Christmas Pudding". For many years, Pat also produced an annual benefit concert called the Ottawa Opry, an event that raised funds for Amnesty International while providing local musicians with opportunities to connect with audiences. Pat organizes the long-running Bluegrass Mondays concert series held at Pressed Cafe each week.  She also hosts house concerts on an ongoing basis to bring audiences together with local and touring musicians.
Pat is a host of the "Saturday Morning" show on CKCU FM, sharing her wide-ranging musical expertise and creating live performance opportunities in the studio.  She is a past and current member of CKCU's Board of Directors.  She has also been on the board of the Spirit of Rasputin's Arts Society, and served as Artistic Director for several years.  In her role as an author, Pat has written a not-for-profit children's book entitled "Clean Water for Lukong" (2011) to help raise funds and awareness for clean water in Africa.
The trophy associated with the Spirit of Tony Turner Award is a "golden funnel" representing the role of the recipients in bringing together different elements of the community to share musical experiences and generate positive outcomes.  The award's namesake, Tony Turner, excelled in this role, leading the Writer's Bloc songwriting collective for many years as well as organizing and participating in annual events such as Great Canadian Song-Along and Christmas Goose.  An accomplished songwriter, Tony also brought the community together through songs such as "Circle of Song", which appears in the prestigious Rise Again songbook, and "Harperman", a protest song that sparked 50 simultaneous sing-along events in communities across Canada in 2015 and led to Tony receiving the Spirit of Folk award from Folk Alliance International in Kansas City in 2016.
Greg Kelly received the inaugural Spirit of Tony Turner Award in 2017.  Greg has organized and hosted countless "open mic" events at various venues over the years, as well as coordinating Writer's Bloc and the Great Canadian Song-Along.  Greg is the Artistic Director of the Spirit of Rasputin's concert series.
Saturday, April 21, 2018, 2:00 PM
Black Irish Pub  – Eastview Plaza (Montreal Road at North River Road) Vanier
For more info: https://www.facebook.com/events/628281934170931