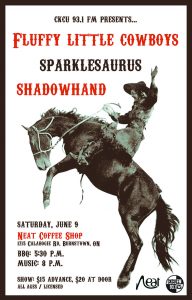 Come on down to Burnstown for a fun summer Saturday evening in the heart of the Ottawa Valley! The evening will start with a gourmet BBQ (with veg/vegan options), drinks on the patio and will be followed by a night of live music from Fluffy Little Cowboys, Sparklesaurus, and Shadowhand  in the cozy old school house that is Neat Coffee Shop.
Fluffy Little Cowboys are a female Alt-country trio coming from Prince Edward Island. "They aren't fluffy, they aren't cowboys, and their sound isn't "little". Sparklesaurus is "like glitter infused jelly on toast", and Shadowhand, self-describes as "the sound of leaving a party alone to walk to the store for cigarettes". Both are incredibly talented local bands to come out and see!
Neat Coffee Shop is a red brick school building built in the 1800's that's now a charming venue with great food and drinks. Come out and relax on the patio, and if you feel inclined, take a stroll across the street to put your feet in the Madawaska River.
Saturday, June 9th, 2018.
BBQ – 5:30PM
Music – 8:00PM
1715 Calabogie Road, Burnstown, Ontario
Tickets are $15 in advance or $20 at the door, available at https://neatmusicandcoffee.ca/ . Please note that show tickets do not include BBQ,.