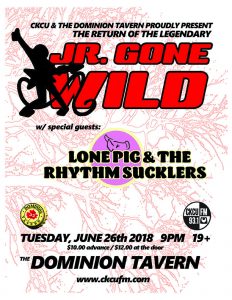 Edmonton' s Jr. Gone Wild roamed stages across Canada in the decade between their debut Less Art, More Pop in 1986 and their swan song Simple Little Wish in 1995. In his book about that decade in Canadian music NEVER BEEN THE SAME Michael Barclay writes "Jr. Gone Wild were combining hardcore country, punk rock and paisley underground 5 years before Uncle Tupelo would be hailed in America as pioneers of the "alt-country movement".
Jr. Gone Wild became known for their take no prisoners live shows but what gets missed is the songwriting brilliance of Mike McDonald. If the Byrds seem a good comparison, that band had 3, 4 or 5 great songwriters producing that wide range of material. McDonald covers all those songwriting bases himself.
It's is indeed a rare treat to get to see Jr. Gone Wild LIVE in Ottawa.
Be there on Tuesday June 26 at The Dominion Tavern, 33 York St. …advance tickets are available at Birdman Sound and Vertigo Records
Lone Pig & The Rhythm Sucklers open the show.
Brought to you by CKCU 93.1 FM
https://www.facebook.com/events/2026432467678334/