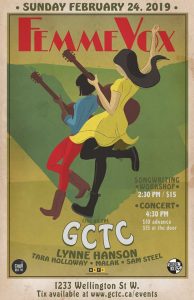 CKCU is super pleased to be part of FemmeVox's debut event which will be taking place at the Great Canadian Theatre Company on Sunday, February 24th 2019. FemmeVox is a series of concerts and artist-led workshops celebrating established and emerging talent, and promoting mentor-ship among its artists.
Back from a whirlwind tour of Europe, the spectacular and award-winning Canadian music legend Lynne Hanson headlines the event. She will be joined by Ottawa's Tara Holloway, Malak Sound and Sam Steel!
Advance tickets for the concert are $10 or $15 at the door. Prior to the event from 2:30-4PM, you can also join an exclusive songwriting workshop led by Lynne earlier in the day for only $15. The workshop will be facilitated by CKCU's own Tonya Price. Don't delay though, as seating is limited!
For tickets: https://www.gctc.ca/events/2019/2/24/femmevox-lynne-hanson
More info:
https://www.facebook.com/events/358233764986591/