The Annual Johnny Cash Birthday Bash is upon us again!
Join Ray and Lefty from Friday Nite Truck Stop, with their friends The Whiskey Standards and a slew of special guests, celebrating the life and music of The Man In Black, all night long!!
Special guests include:  Slo' Tom! ⊕ Pat Moore! ⊕ Steve Stacey! ⊕ Mabel Beggs! ⊕ Ashley Newall! ⊕ Jon Laurie-Beaumont! ⊕ Howie Hooper! ⊕ Maria Hawkins!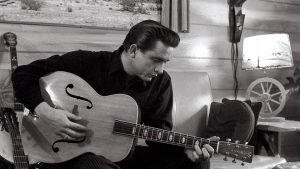 The Whiskey Standards will be slogging away all night, show them lots of love too:
Ray Harris/Lefty McRighty – hosting, guitars, etc
John Cormier – electric guitar
Steve Donnelly – upright bass
Ian Cook – drums
Jim McDowell – keyboards
Gary Schertzer – harmonica/percussion
Bring some cash for raffle prizes, including prize packs from The Record Centre, and customized Johnny Cash Guitar(t)work from Hipcrank!
Saturday February 23rd, 2019  |  The Rainbow Bistro (76 Murray St)
Doors 8pm  |  Music 9pm  |   Tix $12 advance  |  $15 door