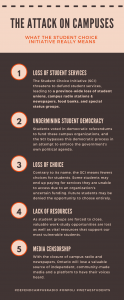 The Ontario Government has launched the "Student Choice Initiative". This involves student levies that support organizations and services on campus for groups such as: CKCU, The Charlatan, CUSA, GSA and the Sock'n Buskin Theatre. These levies have now been made optional with an "online opt-out option". The student fees are the main source of revenue for us and these organizations, and a large loss of revenue will put us and these groups at risk. An "opt out" is not acceptable for organizations that have been around for decades and were created and funded by referendums supported by the majority of Carleton students. The Ontario Government has not done any studies on the value of services these groups provide.
CKCU provides students with training and opportunity to help them build for the future. Many of CKCU's student volunteers have gone on to careers in the media. CKCU provides access to the airwaves for local musicians including Carleton University student musicians. This support by the radio station is a key part in the development and success of Ottawa's music community. CKCU promotes grassroots events on and off campus, playing an important role in connecting the community.
Please let your MPP know that you support CKCU and object to the"Student Choice Initiative".