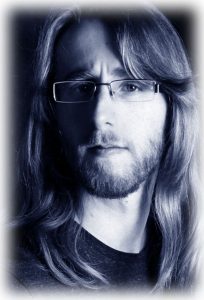 Meet Colin Boudreault. He is a second year Carleton student, pursuing a degree in Communications & Media Studies with a minor in Professional Writing. He was born in Ottawa and has lived here his entire life so far. Colin works on the show Ottawa Live Music (OLM) which airs every 2nd Thursday from 10 to 11PM. OLM broadcasts a performance live off the floor by a local band, typically to promote an upcoming show or album. It's a great means of promoting local talent and providing cultural enrichment to our community. Also, as a musician who enjoys writing and recording music, he hopes to perform on OLM himself at some point!
His primary job is to set up and tear down audio equipment as well as monitor the sound levels during the broadcast. Recently however, he has begun co-hosting the show alongside another regular of OLM, Dick Altavista. He is also a member of our production team that helps create advertisements and station identifications along with other audio projects for the station.
Colin had been seeking an extra-curricular activity that suited him since enrolling at Carleton in September 2017. After trying a few different clubs and organizations, he was drawn to CKCU as a valuable opportunity to hone and tune his skills in audio engineering.
In Colin's own words: "People from all walks of life use our station as a means of allowing their voice to be heard on matters that are important to them. We have a litany of shows featuring hosts that come from groups that are unfortunately marginalized by conventional broadcasting standards. CKCU… affords the opportunity to experience the practices, beliefs and opinions of those who are overlooked by the broadcasting hegemony."
Since volunteering at CKCU, Colin feels privileged to have met several people who are as passionate about music and broadcasting as he is, such as his partner for production work Josh Taylor, and the OLM crew folks. One of Colin's long-time aspirations has been fulfilled being able to hear his my work and voice broadcasted over the radio. Colin credits CKCU for giving him a place to relieve some of the stress that a charged class schedule brings, when the workload is heavy.
Tune in LIVE every second Thursday at 10PM for Ottawa Live Music or listen to past episodes On Demand: https://cod.ckcufm.com/programs/113/info.html