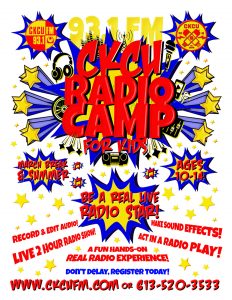 Registration is concluded for this Summer, thanks to all who participated. Look out for another year of Camps for 2020 coming soon….
Hey Kids! Want to take over the airwaves?
Join us at CKCU 93.1 FM for a truly unique camp experience this SUMMER. CKCU's Radio Camp is the only camp in Ottawa that teaches kids between the ages of 10 and 14 how to be a real live radio star. CKCU has presented this very unique week long camp to kids in the Ottawa area since 2001.
For more info and how to register please check out: http://www.ckcufm.com/radio-camp/