On Saturday July 6th, The Groove will be celebrating 40 years on CKCU!
For the occasion, Elorious Cain will present the 'Real History Of Disco' over 18 hours, with his usual Saturday at 1 PM start and finish at 7 AM Sunday morning! This extra long shift is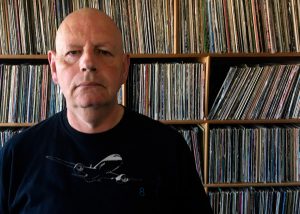 something he has done in the past, and no better time for a repeat to celebrate the Groove's 40th!  When he did it in 1999 and then in 2009 it was very well received.
"THE REAL HISTORY OF DISCO"  is an intensive eighteen hour guide that chronicles the industry and it's music from it's very beginnings. It talks about the different musical genres, some of the dance crazes and significant clubs. Expect plenty of music from the super-groups that changed everything, amazing vocalists along with many of the divas and discoqueens! Also included are certain treats like spectacular cover-versions, remixes, megamixes and mash ups!

In Elorious' own words: "It has been a tremendous honor to have been permitted to do a radio show at CKCU for the last 40 years.  During those 40 years so much has changed at the station.  The first 21 episodes of my show were prerecorded on reel-to-reel tape in the production studio.  Sure don't do that anymore!  Are there any reel-to-reel tape machines left at the station?  Many other devices like cassette machines and cart machines have been replaced with new technology.  I have had the pleasure of meeting and interfacing with many of the great legends of CKCU that are no longer with us in this world like Ron Sweetman, Rob Stewart, Chopper McKinnon, Marc Valcour, and Nadine Gelineau.  There are also hundreds of others I mentored or spared with.  So many personalities like John Westhaver, Trevor Walker, Janis Lockwood, Lance Baptiste, Roch Parisienne, Alwin Ross, DJ Ducats, Len Puckerin, Deb Ford, Ron Moores, Stephen Neale, Jon Degan, VH3, Ralph Hopper, Ean Skizzle, Gabriella Bregman, Junior Smith, Teknobrat and John Stamos have had a profound influence on me over the years.  I am still learning and CKCU is one of the best places for that in the world!"
Thanks to all the programs and hosts that have stepped aside on this weekend to give Elorious the airwaves! They will all resume as usual the next week.
~ Reggae In The Fields  – 3-5:30PM ~ Spirit Of Vietnam – 5:30-6PM ~ Steve Kirkland – 6-8PM ~ Heavy Friends – 8-10PM ~ Vintage Love – 10-midnight ~ Midnight In A Perfect World – midnight-2AM ~ Rick's Rhythm Ride – 2-7AM