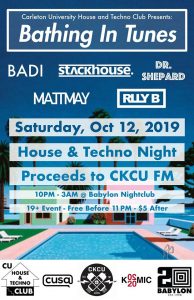 Carleton University House and Techno Club Presents:
Bathing In Tunes – Volume 1
Prepare yourself for a night of bathing in tunes! Join us at Babylon Nightclub for Carleton University House and Techno Club's first ever official event featuring the likes of local legend, Stackhouse, plus Rlly B, Badi, Matt May & Dr. Shepard! This event will feature an immersive experience unlike any other student run experience to be found in Ottawa. Prepare your ears for some of the finest house music and techno on the market.
Entry is FREE before 11PM and 5$ after. A 19+ Event. Proceeds will be donated to CKCU-FM
Big thanks to the CU House and Techno Club for thinking of us!