CKCU-FM and Curiocity present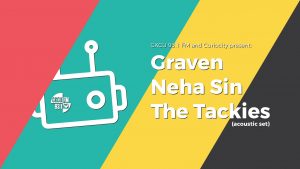 :
A Very Curious Funding Drive Show

Graven
Neha Sin
The Tackies (acoustic set)
Tuesday, October 15, 2019 at 8 – 11 PM
Bar Robo 692 Somerset W.
Erik Stolpmann who is host of "Curiocity" (every Monday from 10 – 11AM on CKCU) invites us to get "curious about community" by bringing us a night to celebrate some great local music at Bar Robo. These three very talented local artists who each have a special connection to the venue and the station, will be performing in support of the annual CKCU Funding Drive. There will also be door prizes supporting other local artists in the city.
Door: $10 / PWYC  ….All proceeds go directly to CKCU 📻
more info: https://www.facebook.com/events/2585287234863001/