2019 Election Night Coverage presented by CKCU-FM and aired nationally on various NCRA stations!
ELECTION DAY – October 21st, 9pm – Midnight Eastern Daylight Time (6-9pm Pacific)
LIVE from CKCU, the event will feature CKCU political host Brendan McLoughlin (co-host of "The Filibuster") and Luke Smith (CanQueer: Canada's LGBT Community Talk Show) along side panelists from different experiences and communities who will speak about the election from their perspective.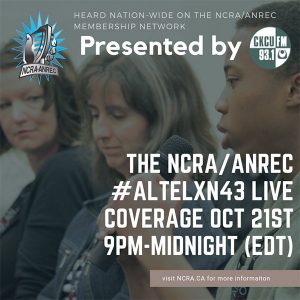 Each hour will feature three guests, three discussions on key ridings as well as local breaks so that the syndicated stations may cut into the program with their own local updates.
Other stations participating so far include:
CKVE-FM (Hubbards Cove, NS)
CFRO-FM (Vancouver, BC)
CHXL-FM 95.3 Creek FM (Balcarres, SK)
CICK-FM (Smithers, BC)
CJSF-FM 90.1 FM (Burnaby, BC)
CFRU-FM 93.3 (Guelph, ON)
CKAR-FM (Huntsville, ON)
CiTR-FM 101.9 FM (Vancouver, BC)
more info: https://www.ncra.ca/election-2019
#AltElxn