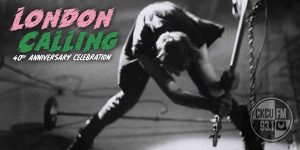 The Clash's 3rd studio album LONDON CALLING left a huge mark on the world of music. To celebrate, we invite you to come on down for the 40th anniversary celebration (to the day) of the "best album of all time" at the 27th Club!.
London Calling performed front to back by Police and Thieves (ex-Furnace Face/The Skatterbrains), Ready Steady Go (ex-Jimmy George), Radicals (ex-Rude Boy), John Carroll and Juice with the proceeds benefiting CKCU-FM!
Also, David Yazbeck host of Thursday Special Blend (https://cod.ckcufm.com/programs/100/info.html) will be the MC for the proceedings!
Saturday December 14 @ The 27 Club Ottawa (27 York St)  licensed 19+ – 8pm doors – $10 advance + service charges
tickets available at Vertigo Records and online…. more info here: https://www.facebook.com/events/415405869155960/