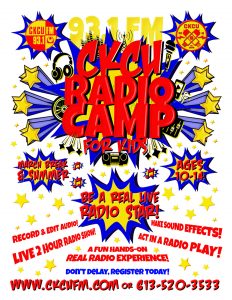 UPDATE: Due to all the recent circumstances surrounding the unprecedented pandemic of the COVID-19 coronavirus, we feel we don't really have much choice other than to cancel next week's March Break Radio Camp. All other camps at Carleton next week have already been cancelled and we feel we need to follow suit.
Hopefully when it comes time for the Summer Camps, you will be able to consider us as an option then.
_ _ _ _
CKCU's March Break RADIO Camp, still accepting registration!
March 16th-20th, 2020… 5 DAYS, BIG FUN!!! :D
Hey Kids! Want to take over the airwaves?
Join us at CKCU 93.1 FM for a truly unique camp experience this March Break. CKCU's Radio Camp is the only camp in Ottawa that teaches kids between the ages of 10 and 14 how to be a real live radio star. CKCU has presented this very unique week long camp to kids in the Ottawa area since 2001.
For more info and how to register please check out: http://www.ckcufm.com/radio- camp/ or call Dave at 613-520-3533