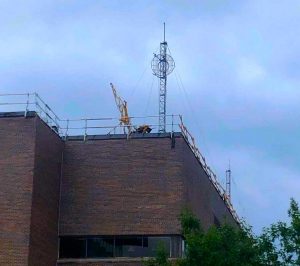 UPDATE: The tower is back up. The transmission line has been connected and tested. The transmitter is receiving our signal from the station. Radios ready and waiting to be turned back on all around town…. We thank everyone, hosts and listeners alike for their patience and support while this work was being done. We've endured some ups and downs the past few months, but nothing will keep the Mighty 93.1 down!
Thanks to to the tireless efforts of our Engineer Jeff Ruck and the crew from Grundy Telecom Integration that came from out of town at the drop of a dime and worked in this crazy sun on a hot tar roof every day until the work was complete.
FM signal down, working on repairs to roof antenna
This morning, Friday July 3rd, there was a roofing accident on the roof of the Unicentre here at Carleton University that effectively knocked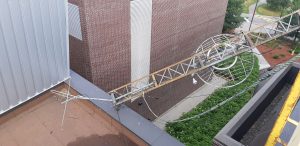 down our tower that sends signal to Camp Fortune. Therefore you won't hear us on FM until that is repaired. We will still be available through the "Listen Live" streaming on our website, and anytime On Demand. We apologize for any inconvenience this will cause and are endeavoring to get this solved as quickly as possible.