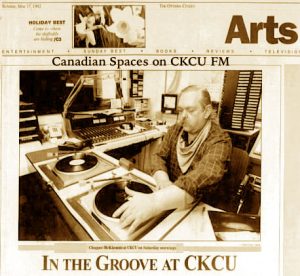 Canadian Spaces on CKCU FM is Canada's longest-running folk music radio show.  Founded in 1980 by the late A.L. ("Chopper") McKinnon, the show celebrates its 40th anniversary with an exciting live broadcast on multiple audio and video platforms this Saturday, September 26 from 10 to noon Eastern.  The two-hour Canadian Spaces anniversary celebration will feature a total of 40 guests who will chat and perform in one of eight 15-minute time slots.
Chris White will co-host this special edition of Canadian Spaces along with Carolyn Sutherland, former Artistic Director of the Stewart Park Folk Festival and Shelter Valley Folk Festival.  A singer-songwriter, community animator and Ottawa Folk Festival co-founder, Chris took on the hosting role after Chopper passed away in March, 2013.
The anniversary show will be broadcast *live* on four different audio and video platforms:
1.  Radio:  CKCU FM 93.1, Ottawa
2.  Streamed Audio:  www.ckcufm.com and now On Demand – https://cod.ckcufm.com/programs/129/49158.html
3.  YouTube:  CKCU YouTube channel – https://www.youtube.com/channel/CKCUFM
4.  Facebook:  Canadian Spaces Facebook page – www.facebook.com/canadianspaces
• Ottawa-based visual artist Arthur II (pronounced 'two') will be creating an original painting on camera in real time during the program as a tribute to the 40 years of amazing music and conversation the show has presented.
• Thunder Bay-based musician and videographer Chad Kirvan will be cooking a custom-designed 'Canadian Spaces Breakfast' live on camera during the show.  The breakfast will include a special 'hot brown drink' in reference to the famous phrase Chopper used for 33 years to introduce the '40 minutes of uninterrupted folk' that start each show
• To complement the live performances by the musicians, Ball & Chain (Michael Ball and Jody Benjamin) will be at the broadcast site in person to perform live at various points during the show.
Story In the Ottawa Citizen: https://ottawacitizen.com/entertainment/ckcu-folk-show-canadian-spaces-celebrates-40-years-on-the-air
Here it is the extended version on the CKCU YouTube channel: https://www.youtube.com/watch?v=zc_GNUNTrhI
…and of course CKCU On Demand  where you can still post a comment as well.