Exactly 45 years ago at the stroke of midnight on Nov. 15th 1975, CKCU-FM began broadcasting as Canada's first CRTC licensed campus/community radio station at 93.1FM, and the first song played was "You Turn Me On, I'm a Radio" by Joni Mitchell.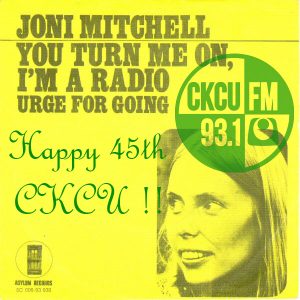 From the initial vision, passion and hard work of CKCU's founders, the Mighty 93 has been a crucial part of the Ottawa/Gatineau region providing independent programming for four and half decades. Over these last 45 years, CKCU has worked to support music, arts, culture, current affairs and countless other communities. CKCU's commitment to this will surely continue. 
CKCU owes a huge debt of gratitude to everyone who has walked the hall to our studios. An extra special thanks of recognition to Janis Lockwood. Janis lead many a CKCU birthday celebration over the years, announcing while popping the cork on a bottle of champagne. Janis' involvement with CKCU going back decades cannot be overstated. Thank you Janis for your passion, dedication and belief in CKCU.  
As we move towards our 50th year as a broadcaster in 2025, CKCU will continue to grow with our communities and expand the support we strive to give independent voices. The support you provide us as listeners and donors keeps us alive and moves us forward. Huge thank you to everyone for helping us get here.  Let's share a toast to CKCU getting to 45 years, and to the decades yet to come.