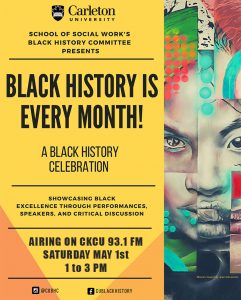 Presented by Carleton University School of Social Work, Black History is Every Month highlights African diasporic accomplishments and culture and draws attention to the challenges, strengths, and resilience of Black communities in Canada. In particular, there is a focus on the importance and value of celebrating Black history every day.
This annual event debuted in March live on YouTube, and CKCU is proud to air an audio version on Saturday May 1st from 1-3 PM.  This project is an integral part of the School of Social Work's commitment to serving all students, including Indigenous, Black, and racialized students who often express feeling invisible in academic spaces while also feeling hyper-visible in their differences. The sentiment of being seen and yet unseen relates to their experiences within post-secondary education. This event's ultimate goal is to create a space that supports culture change to assist the Carleton community and the broader Ottawa area to understand the complex issues associated with diversity and inclusion.
The Black History is Every Month featurette includes interviews with a variety of contemporary Black voices in Ottawa, a living portrait of their stories and commentary, as well as conversations that further dissect what it means to be Black in Canada today. A LENZSTUDIO Production.
LISTEN NOW: https://cod.ckcufm.com/programs/131/51832.html
More info: https://carleton.ca/socialwork/black-history-month-everyday/