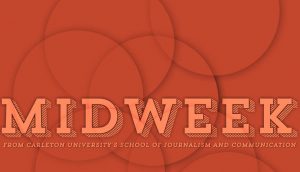 Students in their final year of a four-year Honours Journalism program or in their second year of study for a Masters of Journalism make up the production team for Midweek. While they are evaluated as students on their radio work, the aim is always for a professional outcome.
Midweek's studios are located at The School of Journalism and Communication in the St. Patrick's Building on Carleton's campus but is transmitted from CKCU, FM and live stream.
Carleton University's School of Journalism and Communication is the oldest journalism program in Canada. It was initiated in 1946 and continues to graduate top students with a thorough education in journalism and public affairs.
Midweek takes flight again at 12:05 PM tomorrow (Sept 29th), right after the BBC News summary. It will also be available On Demand after the fact (https://cod.ckcufm.com/programs/86/info.html) We at CKCU are excited to welcome Midweek back for another season!